Are you and your partner looking to add a touch of comedic brilliance to your next costume party? Look no further, because we've got the ultimate guide to help you transform into the unforgettable characters, Vinny Gambini and Mona Lisa Vito, from the classic comedy film, "My Cousin Vinny." This dynamic duo, portrayed by Joe Pesci and Marisa Tomei, brought hilarity and charm to the big screen with their witty banter, sharp humor, and memorable personalities. Whether you're attending a movie-themed event, paying homage to a beloved film, or just want to share a good laugh, our guide will walk you through the steps to craft authentic Vinny Gambini and Mona Lisa Vito costume. From Vinny's rough-and-tumble lawyer attire to Mona Lisa's sassy and stylish demeanor, you'll have all the tips you need to become the life of the party.
Vinny Gambini and Mona Lisa Vito Costume – My Cousin Vinny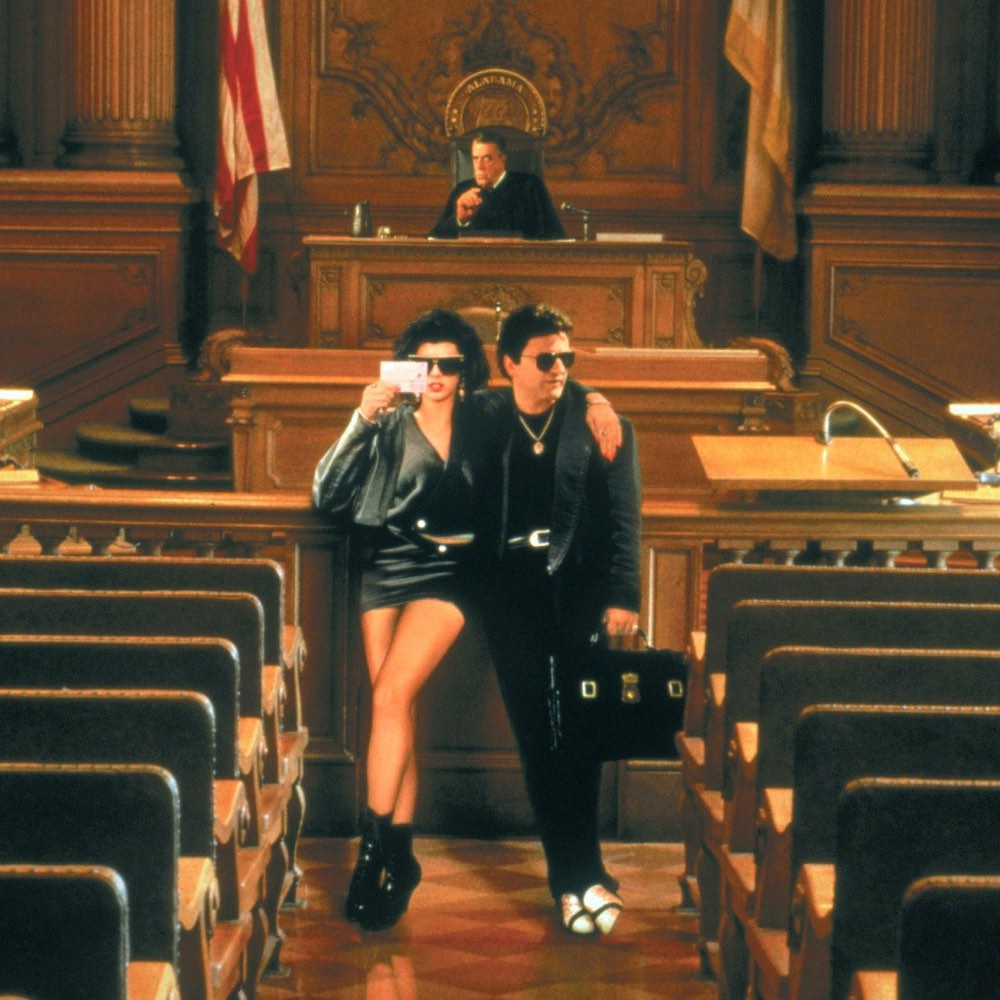 Mona Lisa Vito Costume
| # | Item | Description |
| --- | --- | --- |
| 1 | Black Sparkle Crewneck Cocktail Mini Dress | Shine like a star on the stage with your intelligence and this stunning black sparkle crewneck cocktail mini dress that's bound to steal the spotlight. |
| 2 | Black Cher Pump | Elevate your style and accentuate your enviable legs with these elegant black Cher pumps, the perfect choice for a show-stopping appearance. |
| 3 | Gold Round Dangling Earrings | Enhance your charm and charisma with these exquisite gold round dangling earrings, a must-have accessory for your captivating look. |
| 4 | Gold Necklace with Coin Pendant | Add a touch of elegance to your ensemble with this stunning gold necklace featuring a coin pendant, a symbol of timeless beauty and grace. |
| 5 | Black Fashion Shoulder Bag | Complete your look with this chic black fashion shoulder bag, reminiscent of the character's iconic accessory, and carry your confidence with style. |
| 6 | Jumpsuit | Explore another outfit option with this stylish jumpsuit, perfect for a versatile and dynamic look to suit various occasions. |
Vinny Gambini Mona Lisa Vito Costume
| # | Item | Description |
| --- | --- | --- |
| 1 | White Long Sleeve Button Down Shirt | Elevate your legal style game with this impeccably tailored white long-sleeve button-down shirt, an essential foundation for your confident lawyer attire. |
| 2 | Two Piece Formal Suit | Step into the courtroom exuding poise and self-assurance with this impeccably tailored two-piece formal suit that sets you apart as a true legal professional. |
| 3 | Black Leather Oxford Shoes | Complete your polished look with these exquisite black leather Oxford shoes, exuding sophistication and refinement in every step you take. |
| 4 | Black Classic Leather Belt | Add a touch of timeless elegance to your sharp ensemble with this black classic leather belt, a symbol of professionalism and attention to detail. |
| 5 | Maroon Necktie with Blue Color | Elevate your competent image with this distinguished maroon necktie featuring subtle blue accents, a testament to your attention to detail and professionalism. |
Vinny Gambini and Mona Lisa Vito Overview
Vinny Gambini: Vincent "Vinny" Gambini is the central character in the 1992 comedy film "My Cousin Vinny." He's a fast-talking, street-smart New Yorker who finds himself unexpectedly defending his cousin, Bill, in a murder trial in rural Alabama. Vinny's character is known for his distinctive Brooklyn accent, flashy style, and relentless determination to prove his cousin's innocence. His costume typically includes:
A black, slim-fit, two-button suit jacket.
A white dress shirt.
A thin black tie.
Black dress pants.
A pair of black dress shoes.
Optional accessories like a gold chain necklace or aviator sunglasses.
Vinny's look is classic and urban, reflecting his bold personality and brash approach to life.
Mona Lisa Vito: Mona Lisa Vito, portrayed by Marisa Tomei, is a pivotal character in "My Cousin Vinny." She's a sassy, street-smart, and fashion-forward woman with a sharp wit and a no-nonsense attitude. Mona Lisa hails from Brooklyn, just like Vinny, and her style is as vibrant as her personality. Her costume typically includes:
A form-fitting, red mini-dress with a V-neck.
A leopard-print jacket or coat.
High-heeled boots or stylish heels.
Large hoop earrings.
Bold makeup with red lipstick.
Mona Lisa's look is all about confidence, sass, and standing out from the crowd. Her unmistakable fashion sense and sharp-tongued humor make her a beloved character in the film.
As you embark on your journey to create Vinny Gambini and Mona Lisa Vito costumes, keep in mind their unique personalities and fashion choices. With the right attire and attitude, you and your partner will capture the essence of these unforgettable characters and bring the humor of "My Cousin Vinny" to life at your next costume event.
Check out more movie costume ideas here.