Are you ready to unleash your inner rock star and take on the persona of one of the most iconic drummers in the history of rock music? If you've ever dreamed of channeling the high-energy, larger-than-life spirit of Tommy Lee, then you're in the right place! In this guide, we'll walk you through the steps to create an epic Tommy Lee costume that will have you feeling like a true rock legend. From his signature style to his unforgettable stage presence, you'll learn how to capture every aspect of this legendary musician's persona. So, grab your drumsticks and get ready to rock and roll as we dive into the world of Tommy Lee!
Tommy Lee Costume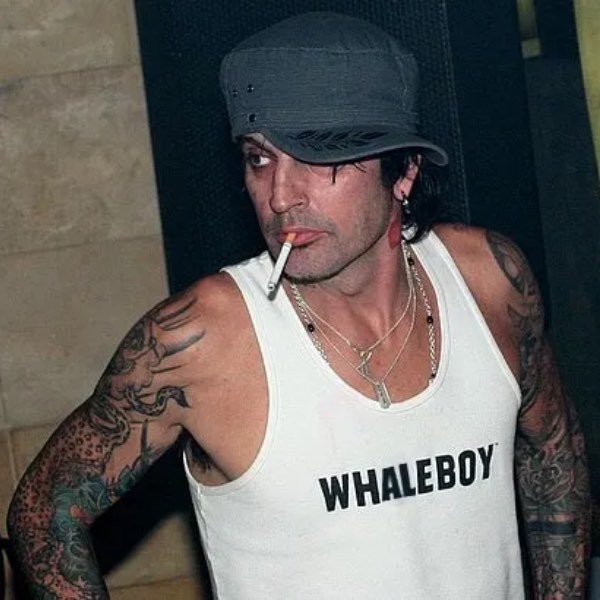 | # | Item | Description |
| --- | --- | --- |
| 1 | White Tank Shirt | Transform your look with this essential white tank shirt. It's the perfect foundation for your daring ensemble |
| 2 | Black Leather Pants | Elevate your style with these sleek black leather pants. Pair them with your tank shirt for the ultimate bad boy look. |
| 3 | Black Ankle Boots | Complete your outfit with these stylish black ankle boots. They add a rebellious touch to your rock-inspired attire. |
| 4 | Black Sunglasses | Shield your eyes from the spotlight with these classic black sunglasses. Stay cool and mysterious just like Tommy Lee. |
| 5 | Black Short Fluffy Wig | Transform your look with this short black fluffy wig. Emulate Tommy Lee's hairstyle and rock star charisma. |
| 6 | Padlock Necklace | Add a touch of authenticity with the signature padlock necklace. Tommy Lee's iconic accessory that completes your look. |
| 7 | Temporary Tattoos | Channel your inner rebel rocker with these temporary tattoos. Apply them strategically for an authentic look. |
Tommy Lee Overview
Tommy Lee, born Thomas Lee Bass on October 3, 1962, is a name synonymous with rock 'n' roll excess, innovation, and a boundless passion for music. As the founding drummer of the legendary rock band Mötley Crüe, Tommy Lee became a symbol of the wild, untamed spirit of 1980s glam metal.
Key characteristics of Tommy Lee's persona:
Drumming Prowess: Tommy Lee is renowned for his incredible drumming skills. He introduced the concept of the "drum roller coaster" – a colossal, rotating drum set that he would perform on while suspended in mid-air during Mötley Crüe's live shows. His energetic drumming style and captivating stage presence made him an unforgettable figure in the world of rock.
Fashion Icon: Beyond his musical talents, Tommy Lee is also celebrated for his unique fashion sense. His wardrobe often featured leather, studs, and an abundance of chains, perfectly embodying the glam metal aesthetic of the 1980s. His iconic hairstyle, featuring long, wild hair, has become a symbol of rock 'n' roll rebellion.
Outrageous Personality: Tommy Lee's reputation for living life on the edge and embracing a rock star lifestyle precedes him. His penchant for adrenaline-fueled stunts and partying contributed to the band's notorious image. He was known for pushing boundaries both on and off the stage.
Innovation in Music Videos: Tommy Lee's creativity extended to the band's music videos. One of his most famous moments was in the video for "Dr. Feelgood," where he played his drums while submerged in water, creating a visually stunning and memorable scene.
By creating a Tommy Lee costume, you'll not only pay homage to this legendary musician but also tap into the spirit of rebellion and rock 'n' roll that defined an era. Whether you're planning to rock out at a costume party, pay tribute at a music-themed event, or simply want to embody the essence of this iconic drummer, this guide will help you capture Tommy Lee's essence and stand out as the ultimate rock star.
Check out more celebrity costume ideas here.