Welcome to our easy to follow guide on making your own Navarro cheerleader costume.
The world of cheerleading has never been more captivating than when it was showcased in the hit Netflix docuseries, "Cheer." This heart-pounding series follows the Navarro College cheer team as they strive for perfection, enduring grueling practices and showcasing jaw-dropping stunts. The dedication, passion, and unwavering spirit of these athletes not only inspire us but also leave us wanting to be a part of their incredible journey. If you're looking to pay homage to the extraordinary Navarro cheerleaders this Halloween or at your next costume event, you're in the right place.
Navarro Cheerleader Costume – Cheer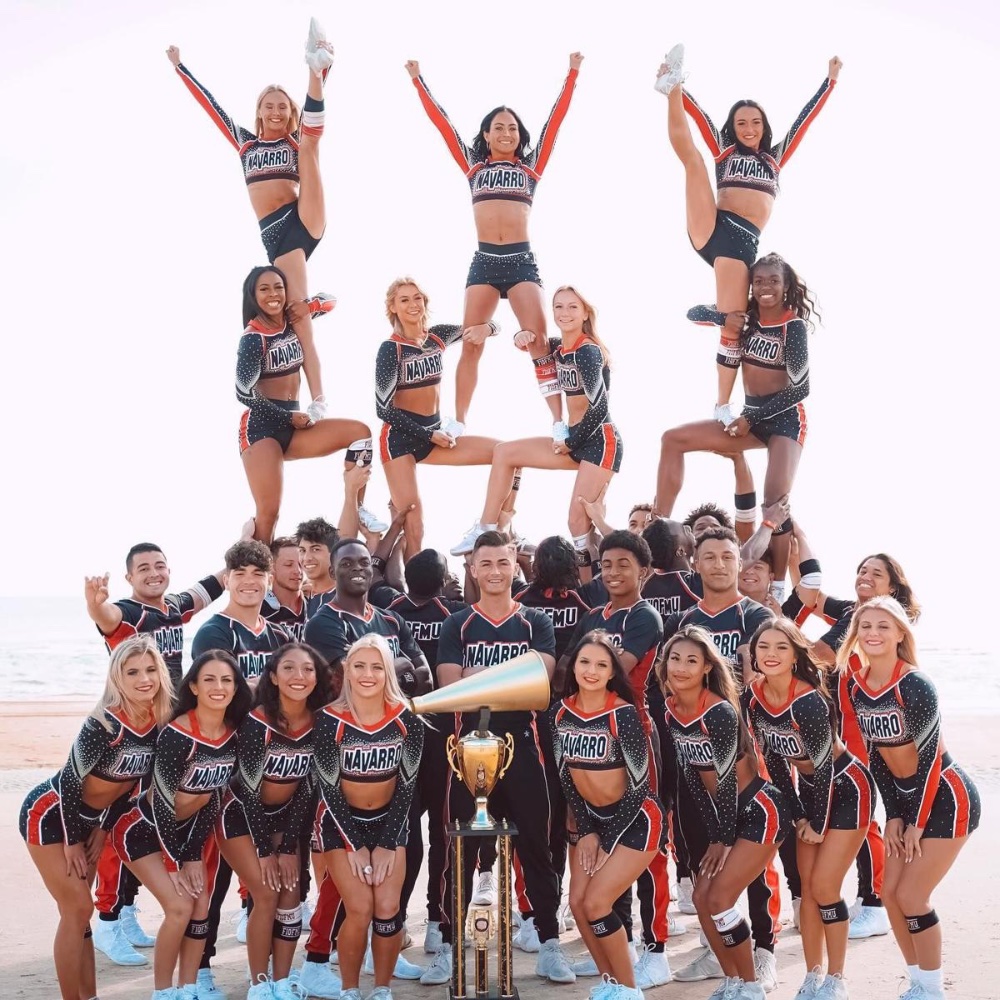 | # | Item | Enhanced Description |
| --- | --- | --- |
| 1 | Shirt | Elevate your style with this versatile shirt. You have the option to transform it into a trendy cropped top for a chic printed look that's sure to turn heads. Embrace the Navarro spirit and make a bold fashion statement. |
| 2 | Halter Top | For those seeking a touch of elegance, consider this long-sleeved halter top. Its stylish design adds sophistication to your ensemble, perfect for capturing the Navarro Cheerleader's confident grace. |
| 3 | Paint | Unleash your creativity and customize your costume. Add the iconic "NAVARRO" to your top and infuse red and white accents, mirroring the team's colors, for a personalized and eye-catching look. |
| 4 | Skort | Complete your outfit with a sleek black skirt-short (skort) that adds an elegant touch to your Navarro-inspired look. |
| 5 | Red Rhinestones | Add a touch of glamour to your costume with shiny red rhinestones. These dazzling embellishments will make your outfit stand out and shine. |
| 6 | White Rhinestones | Add even more sparkle to your costume with these glistening white rhinestones. They'll bring a touch of elegance and shine to your Navarro-inspired look. |
| 7 | White Sneakers | Complete your Navarro-inspired look with a pair of pristine white sneakers. These sneakers will not only complement your outfit but also capture the essence of cheerleader chic. |
Navarro Cheerleader Overview
The Navarro College cheerleaders are more than just athletes; they are the embodiment of dedication, grit, and the pursuit of excellence. As featured in "Cheer," this elite squad takes cheerleading to the highest level, competing at national championships and consistently pushing the boundaries of what is physically possible. To craft an authentic Navarro Cheerleader costume, it's essential to understand the key elements that make their uniforms and style so distinctive:
1. The Uniform: The Navarro Cheerleader uniform is a bold combination of red, white, and black. It includes a red crop top with "NAVARRO" emblazoned across the chest, a black skort (a skirt with shorts underneath), and white sneakers. The uniform is a symbol of the team's unity and determination.
2. Rhinestone Detailing: To capture the glitz and glamour seen on the mat, you'll need to add red and white rhinestones to your uniform. These sparkling embellishments are meticulously placed, creating a striking and attention-grabbing effect.
3. Team Spirit: The Navarro Cheerleaders are known for their unparalleled team spirit and unwavering support for one another. Their performances are not just about the stunts and tumbling; they're about the bond and trust between teammates. To truly embody a Navarro cheerleader, bring their sense of unity and encouragement to your costume.
4. Hairstyle: The signature hairstyle of a Navarro cheerleader is a high, sleek ponytail. Achieving this look will require a hair tie, hairspray, and a bit of practice.
Check out more TV show costume ideas here.