Welcome to our comprehensive guide on creating an iconic Ali G costume, inspired by the hilarious character brought to life by Sacha Baron Cohen. Ali G is known for his unique style, witty humor, and distinctive personality. If you're looking to channel the irreverent energy of Ali G and make a bold fashion statement, this guide is here to help. We'll walk you through the essential elements that define Ali G's signature look, from his flashy tracksuits to his outrageous accessories. Whether you're planning a costume party, a themed event, or simply want to pay homage to this unforgettable character, this guide will assist you in bringing Ali G's larger-than-life persona to life.
Ali G Costume – Ali G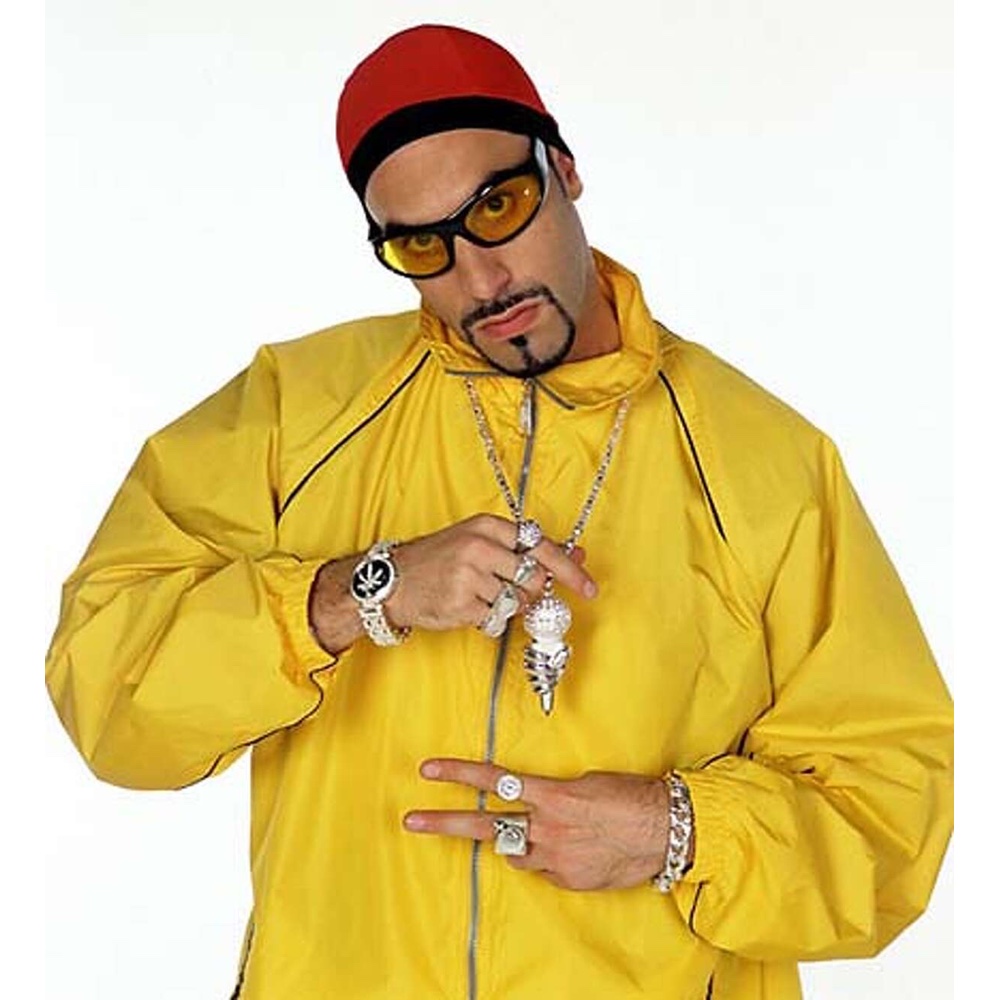 | # | Item | Description |
| --- | --- | --- |
| 1 | Yellow Jacket | Embark on your stylish journey with this vibrant yellow jacket adorned with sleek black lines, showcasing your trendsetting persona. |
| 2 | Yellow Track Pants | Complement the jacket with these eye-catching yellow track pants featuring bold black accents, amplifying your sporty and energetic allure. |
| 3 | Red Beanie | Add a touch of urban flair to your ensemble with a vibrant red beanie, exuding a playful and street-savvy charm. |
| 4 | Tinted Glasses | Elevate your coolness factor with these striking yellow-tinted sunglasses, encapsulating the essence of Ali G's iconic eyewear. |
| 5 | Facial Hair | Complete your transformation with this faux beard and mustache, perfectly capturing Ali G's signature facial hair style. |
| 6 | Bling Bling | Indulge in the world of bling with this dazzling set of "iced" accessories, adding a touch of opulence and extravagance to your outfit. |
| 7 | Necklace | Accentuate your ensemble with this exquisite necklace, perfectly complementing your watch and rings and enhancing your overall style. |
| 8 | White Boots | Step up your coolness game with these sleek white boots, making a bold statement and completing your Ali G-inspired look. |
| 9 | Costume Set | Immerse yourself in the world of Ali G with this comprehensive costume set, capturing every detail of his iconic style. |
Ali G Overview
Ali G is a comedic persona created by Sacha Baron Cohen, known for his satirical interviews and outrageous antics. Ali G is a parody of a British suburbanite who fancies himself as a gangster and street philosopher. His costume is a reflection of his exaggerated style, blending elements of hip-hop fashion, streetwear, and flamboyant accessories. Ali G is often seen wearing brightly colored tracksuits, oversized jewelry, chunky sneakers, and an iconic yellow snapback cap. His outfits are typically accessorized with large sunglasses, gold chains, and extravagant watches. Ali G's larger-than-life persona and humorous social commentary have made him a cultural icon. Get ready to embody the audacious spirit of Ali G and bring laughter and entertainment wherever you go.
Check out more movie costume ideas here.