Welcome to the ultimate costume guide for creating the iconic looks of Raoul and Gonzo! In this comprehensive guide, we will take you through the step-by-step process of bringing these vibrant characters to life. Whether you're preparing for a cosplay event, Halloween party, or simply want to embrace your inner mischief-maker, we've got you covered. Get ready to unleash your colorful creativity and embark on an exciting costume-making journey!
Raoul and Gonzo Costume – Fear and Loathing in Las Vegas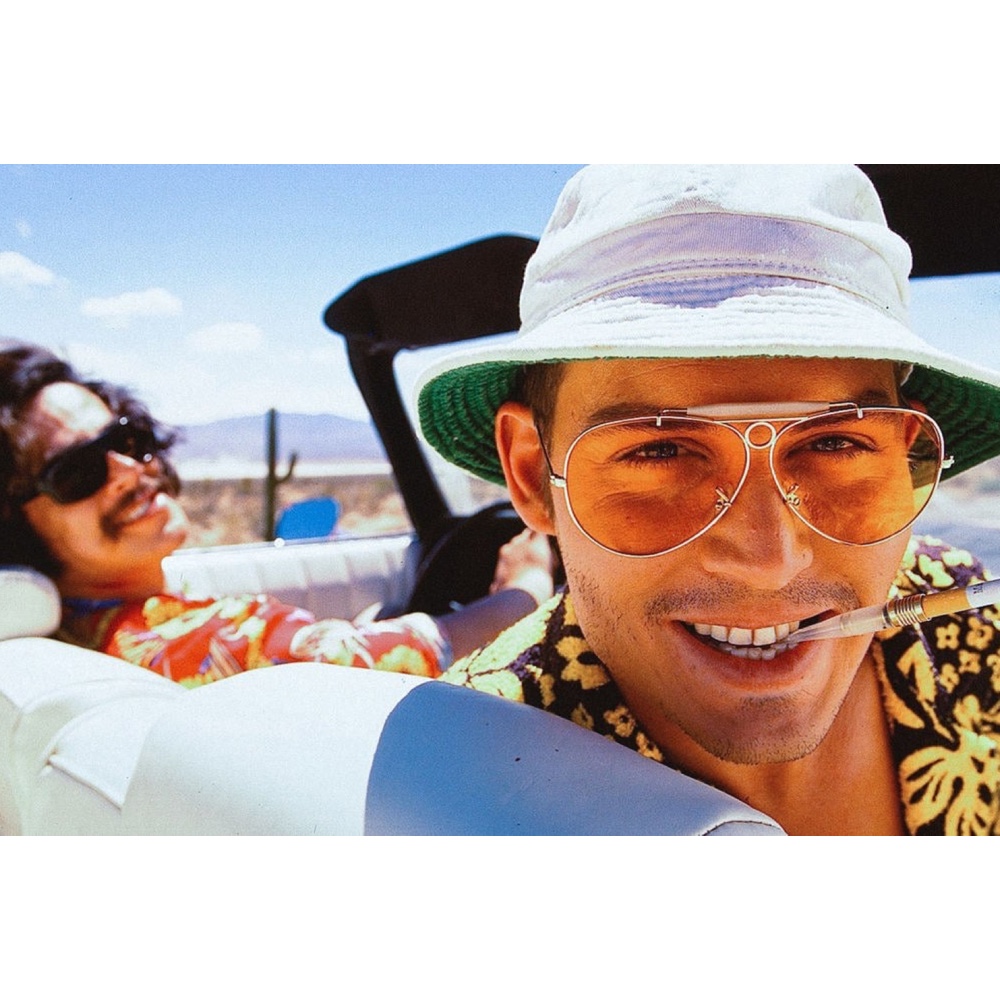 Raoul Duke Costume
| # | Item | Description |
| --- | --- | --- |
| 1 | Vibrant Hawaiian Shirt | Capture the essence of Raoul with this bold and vibrant Hawaiian shirt that screams "adventure awaits!" |
| 2 | Stylish Khaki Pants | Complete your ensemble with a pair of sleek khaki pants that exude effortless coolness. |
| 3 | White Bucket Hat | Add a touch of casual flair to your Raoul costume with this trendy white bucket hat, perfect for keeping the sun at bay. |
| 4 | Yellow Aviator Sunglasses | Channel the spirit of Gonzo with these yellow aviator sunglasses that will have you looking effortlessly cool and ready for any wild adventure. |
| 5 | Classic White Cigarette Holder | Complete the Raoul look with Duke's signature white cigarette holder, adding a touch of rebellious style to your costume. |
| 6 | Handy Fly Swatter | Don't let those pesky flies ruin your adventure! Equip yourself with a fly swatter, just like Raoul and Gonzo would. |
| 7 | Convenient Costume Set | Short on time or DIY skills? Opt for this all-inclusive costume set that provides everything you need to transform into Raoul or Gonzo in no time. |
Dr Gonzo Costume Costume
| # | Item | Description |
| --- | --- | --- |
| 1 | Vibrant Red Hawaiian Shirt | Elevate your style with this vibrant red Hawaiian shirt that brings a tropical touch to your ensemble. Perfect for embracing the spirit of adventure. |
| 2 | Classic Khaki Pants | Step out in confidence with these timeless khaki pants that offer both comfort and versatility, allowing you to tackle any situation with ease. |
| 3 | Curly Wig | Transform your appearance with a curly wig that adds an extra layer of authenticity to your Raoul and Gonzo costume. Get ready to rock those iconic locks! |
| 4 | Playful Fake Mustache | Add a touch of whimsy with a playful fake mustache, instantly enhancing your facial features and capturing the mischievous spirit of Raoul and Gonzo. |
| 5 | Sleek Black Sunglasses | Embrace the air of mystery with a pair of sleek black sunglasses that not only shield your eyes but also exude an aura of coolness and intrigue. |
| 6 | Silver Aluminum Briefcase | Equip yourself with a silver aluminum briefcase, reminiscent of the one carried by Raoul and Gonzo, to hold your essentials and enhance your enigmatic persona. |
| 7 | Complete Costume Set | No time or inclination for DIY? Simplify your preparations with this comprehensive costume set that includes everything you need to channel your inner Raoul and Gonzo. |
Raoul and Gonzo Costume Overview
Raoul is a daring and charismatic individual with a penchant for mischief. He possesses a mischievous grin that never seems to fade, and his eyes sparkle with a mischievous glint. Raoul's eccentric fashion sense often includes vibrant, mismatched clothing that reflects his free-spirited nature. Whether he's wearing polka dots, stripes, or a combination of both, Raoul always manages to stand out in a crowd.
Gonzo, on the other hand, is a unique and enigmatic figure. With his long, unkempt hair and perpetual look of curiosity, Gonzo is constantly seeking out new experiences. He is known for his wild and unpredictable behavior, which often leads him into comical and sometimes absurd situations. Gonzo's fashion choices are as eccentric as his personality, with a preference for eccentric patterns and flamboyant accessories that add a touch of whimsy to his appearance.
Despite their differences, Raoul and Gonzo share an undeniable bond of friendship. They complement each other's quirks and bring out the best in each other during their escapades. Together, they create a dynamic duo that is both entertaining and endearing to those around them.
Whether they're embarking on a daring heist, unraveling a mystery, or simply causing chaos wherever they go, Raoul and Gonzo's escapades are always filled with laughter and excitement. Their vibrant personalities and infectious energy make them a delightful pair to follow on their thrilling adventures
Check out more movie costume ideas here.