An enchanting guide on creating and making your own bewitching Coven Girls costume rom American Horror Story. If you're drawn to the mystical world of witches, spells, and covens, you've come to the right place. In this guide, we'll help you tap into the supernatural energy and embrace the unique style of the Coven Girls. Whether you're channeling the elegance of Fiona Goode, the ethereal nature of Misty Day, or the rebellious spirit of Madison Montgomery, we'll guide you through the steps to create a spellbinding costume that captures the essence of these powerful and intriguing characters. So, let's embark on a journey of witchcraft and fashion to unleash your inner Coven Girl with your own Coven Girls costume, idea for groups of friends especially at halloween time.
Coven Girls Costume – American Horror Story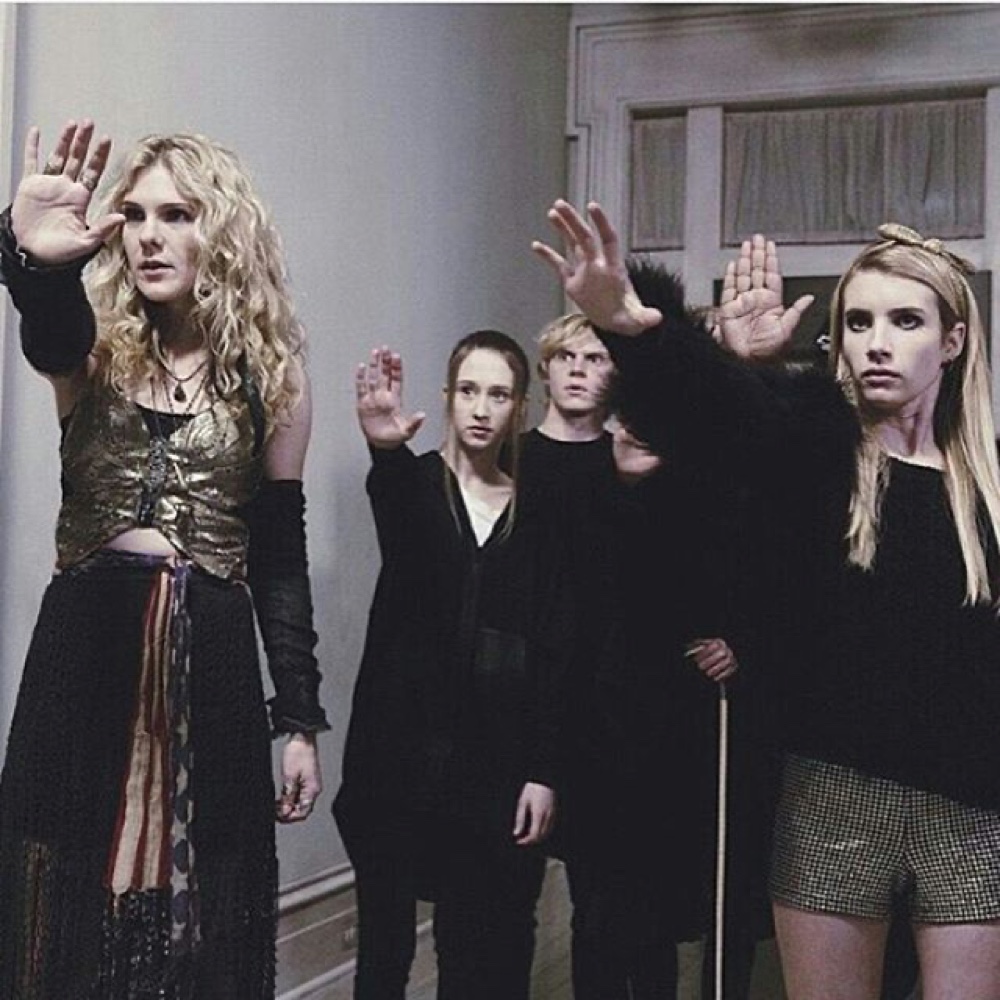 | # | Item | Description |
| --- | --- | --- |
| 1 | Plain White Blouse | Enhance your elegance with a pristine, plain white blouse. This classic garment exudes sophistication and refinement, effortlessly elevating your overall look. The carefully designed buttoned-down style adds a touch of timeless charm, making it a perfect choice for any occasion. |
| 2 | Black Skirt | Create an alluring silhouette with a sleek and stylish black skirt. Its form-fitting design accentuates your curves, exuding confidence and femininity. Whether it's a formal event or a night out, this versatile piece is sure to make you stand out in a crowd. |
| 3 | Black Belt | Complete your ensemble with a sleek black belt that adds a touch of sophistication and pulls your entire look together. This accessory not only enhances your waistline but also showcases your keen sense of style. Elevate your fashion game with this must-have addition to your wardrobe. |
| 4 | Black Bow Tie | Add a touch of sophistication and dapper charm with a black bow tie. This timeless accessory exudes elegance and can transform any outfit into a statement of refined style. Whether it's a formal event or a special occasion, this classic piece is sure to make you look suave and debonair. |
| 5 | Black Socks | Complete your attire with comfortable and stylish black socks. These versatile essentials offer a seamless blend of fashion and functionality, ensuring your feet stay cozy and your look remains polished. From casual outings to formal affairs, these black socks are a wardrobe staple. |
| 6 | Black Shoes | Step out in style with a pair of elegant black shoes. These classic footwear options perfectly complement any outfit, whether it's a formal dress or a casual ensemble. The T-strap design and mid-heel provide comfort and versatility, allowing you to stride with confidence and grace. |
| 7 | Black Hat | Elevate your style with a chic black hat that exudes sophistication and adds a touch of allure to any outfit. This Panama Fedora hat combines fashion and function, shielding you from the sun while enhancing your overall look. Embrace your inner fashion icon with this timeless accessory. |
| 8 | Short Black Dress With Long Sleeves | Make a bold fashion statement with a short black dress featuring long sleeves and a contrasting white collar. This stylish ensemble effortlessly combines elegance and playfulness, making it suitable for various occasions. Turn heads and exude confidence as you showcase your unique sense of style. |
| 9 | Vintage Brooch | Add a touch of vintage glamour with an exquisite vintage brooch. This beautiful accessory adds a subtle sparkle and serves as a captivating centerpiece for your attire. Pin it delicately in front of your collar, channeling the elegance of a bygone era in your contemporary ensemble. |
| 10 | Long Black Socks | Add a touch of sophistication and style to your outfit with long black socks. These comfortable and fashionable socks offer a sleek and polished look that complements various outfits. Whether you're dressing up or down, these long black socks will elevate your overall ensemble. |
| 11 | Black Shoes | Complete your outfit with a pair of classic black shoes. These leather oxfords with wingtip detailing exude timeless charm and provide both comfort and style. From formal occasions to everyday wear, these versatile shoes are a must-have for any fashion-forward individual. |
| 12 | Black Hat | Finish off your ensemble with a touch of elegance by donning a stylish black hat. This foldable hat features a charming bowknot design and offers protection from the sun while adding a touch of sophistication to your look. Embrace the allure of this versatile accessory. |
Coven Girls Overview
The Coven Girls, featured in American Horror Story's "Coven" season, are a captivating group of witches with their own distinct personalities and magical abilities. Led by the legendary Supreme witch, characters like Fiona Goode, Misty Day, Madison Montgomery, and others form a dynamic coven that navigates the complexities of power, sisterhood, and the supernatural. Each Coven Girl possesses her own unique style, whether it's Fiona Goode's elegant and commanding presence, Misty Day's bohemian and earthy allure, or Madison Montgomery's edgy and rebellious fashion choices. By embodying a Coven Girl in your costume, you can tap into the mystique and power of witchcraft, embracing your inner magic and celebrating the enchanting world of American Horror Story's Coven. So, let your imagination soar and craft a costume that conjures the essence of these captivating characters.
Check out more American Horror Story costume ideas here.