Listen up, compadres, because you're about to step into the dangerous world of the Salamanca Twins. These ain't your average hombres; they're cold-blooded hitmen from the heart of 'Breaking Bad.' So, you wanna walk in their boots, eh? Well, strap in, because we're about to show you how to craft a Salamanca Twins costume that'll have folks shakin' in their boots.
Salamanca Twins – Breaking Bad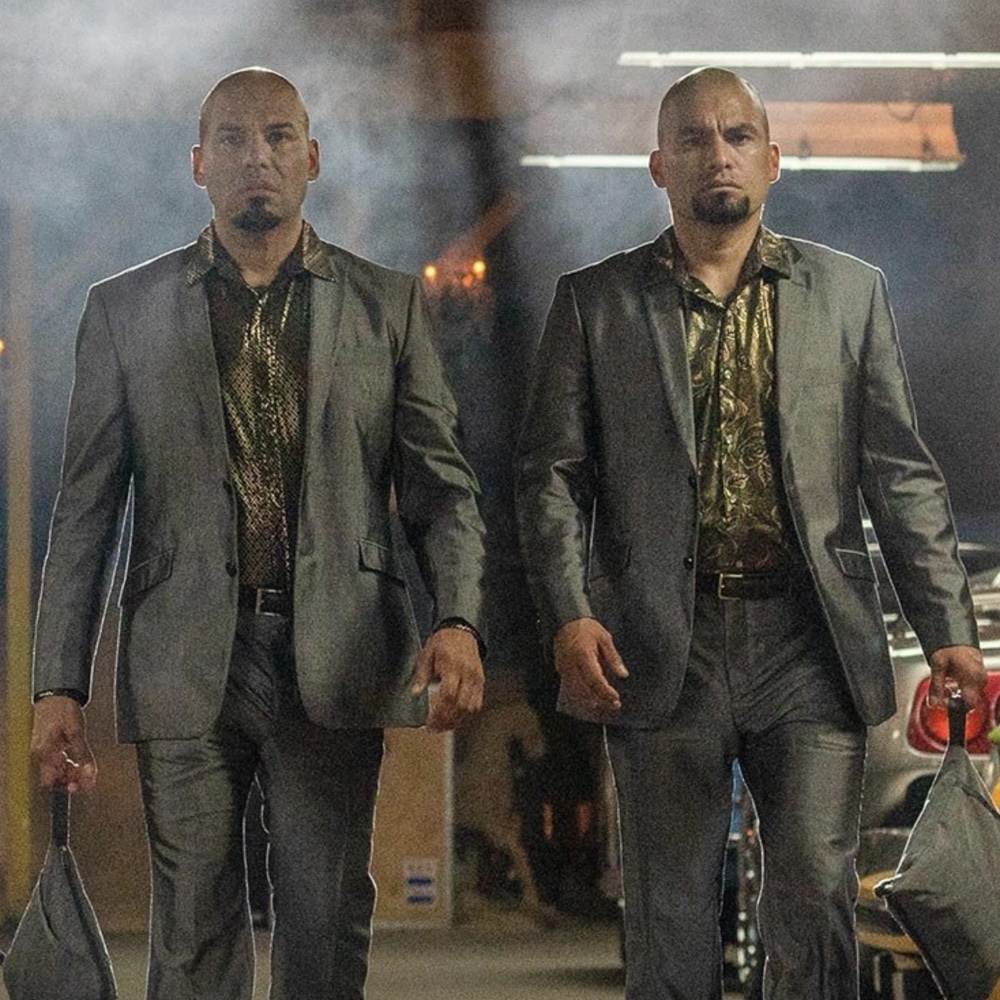 | # | Item | Description |
| --- | --- | --- |
| 1 | Bald Cap | Begin the transformation into the iconic twins with a bald cap. This essential item sets the foundation for the recognizable look. |
| 2 | Gray Suit | Elevate your costume with a gray formal suit, complete with a jacket and matching pants. It's a must-have for capturing the twins' stylish appearance. |
| 3 | Jacket Only | If you prefer a simpler approach, start with just the jacket. It's a versatile piece that adds a touch of class to your costume. |
| 4 | Pants | Complete your outfit with a pair of gray pants that perfectly match your chosen suit. These pants ensure a polished and cohesive look. |
| 5 | Printed Shirt | Stay true to the twins' distinctive style with a golden printed shirt. This shirt adds a touch of luxury and glamour to your look. |
| 6 | Black Belt | Complete your outfit with a black belt that not only adds a finishing touch but also keeps your costume looking sharp and put together. |
| 7 | Brown Dress Shoes | Step into character with a pair of brown dress shoes that add sophistication and authenticity to your costume. These shoes are a must-have for nailing the twins' look. |
| 8 | Toy Machete | Add a playful touch to your outfit with a toy machete prop. It's a fun and recognizable accessory that completes the twins' distinctive look. |
Salamanca Twins Overview
The Salamanca Twins, Leonel and Marco Salamanca, are fictional characters from the critically acclaimed television series "Breaking Bad." They are notorious hitmen and enforcers for the Juarez Cartel in the show. Here's a brief overview of these memorable characters:
Leonel Salamanca:
Leonel, also known as "Leonel" or "No-Doze," is one of the Salamanca Twins. He is portrayed as the more aggressive and ruthless of the two brothers.
His distinctive features include a shaved head, a menacing presence, and a relentless determination to carry out their criminal missions.
Leonel is known for his silence and stoic demeanor, rarely speaking in the series.
He becomes a formidable adversary for the show's protagonist, Walter White, and other characters throughout the series.
Marco Salamanca:
Marco, the other half of the Salamanca Twins, is equally deadly and feared. He is often referred to as "The Cousins" along with Leonel.
Like Leonel, Marco is also bald, and his appearance is marked by a stoic expression and an unwavering commitment to their cartel duties.
Both brothers carry a shared sense of vengeance, seeking retribution for wrongs committed against their family.
Marco and Leonel's iconic and haunting presence adds a significant layer of tension and suspense to "Breaking Bad."
The Salamanca Twins are known for their unique and memorable portrayal in the series, becoming emblematic figures in the world of television. Their menacing presence and unwavering dedication to their cartel make them some of the most memorable characters in "Breaking Bad."
Check out more TV show costume ideas here.