Welcome to our comprehensive guide on creating a captivating Dizzy Tremaine costume! If you're a fan of Disney's Descendants franchise and have been captivated by Dizzy's unique style and personality, this guide is here to help you bring her character to life. Whether you're planning to dress up for a costume party, a convention, or simply want to channel your inner Dizzy, we've got you covered. Get ready to embark on a creative journey as we break down the essential elements and provide step-by-step instructions to craft an authentic Dizzy Tremaine costume that is sure to make a statement.
Dizzy Tremaine – Descendants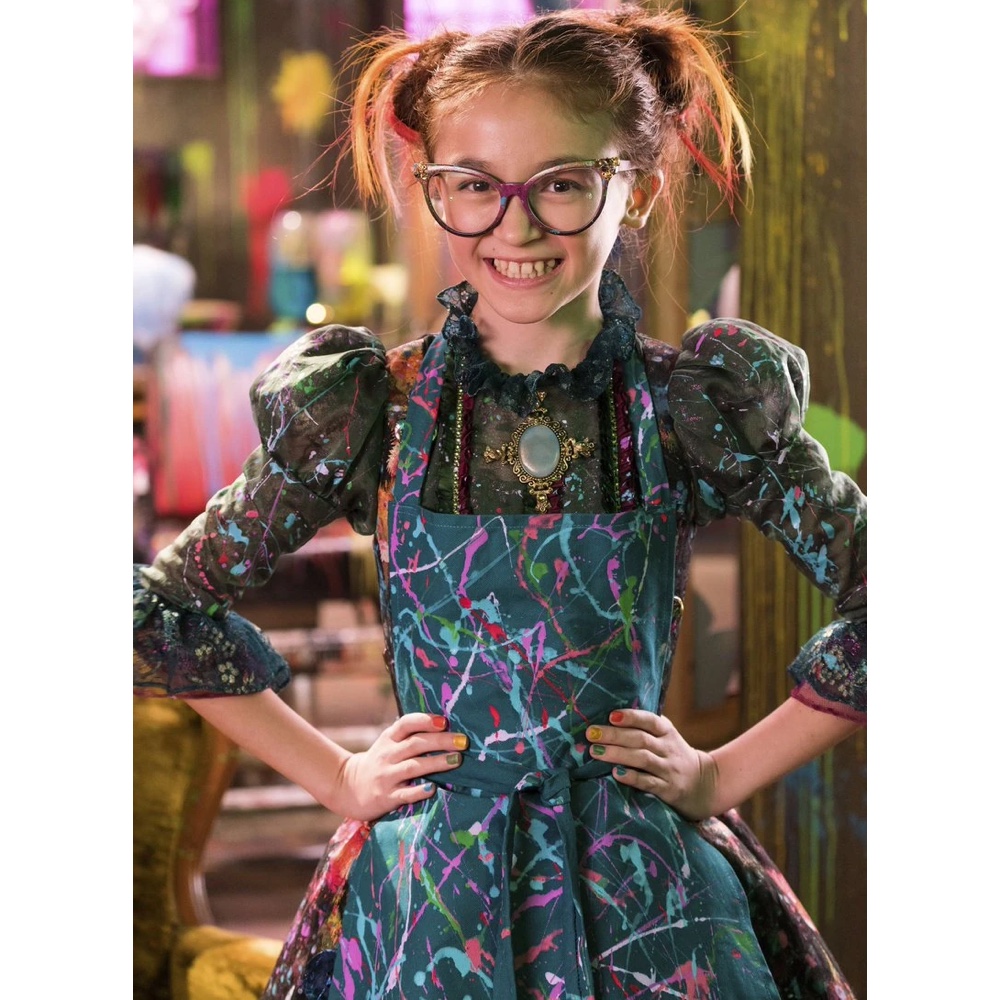 | # | Item | Description |
| --- | --- | --- |
| 1 | Emerald Green Dress | Elevate your style with a mesmerizing emerald green dress, perfect for any occasion. |
| 2 | Teal Kitchen Apron | Add a touch of charm with a teal kitchen apron, reflecting Dizzy's love for creativity and culinary adventures. |
| 3 | Elegant Black Lace Heels | Step out in style with elegant black lace heels, showcasing a blend of sophistication and edginess. |
| 4 | Colorful Fancy Headset | Add a playful touch to your costume with a colorful and fancy headset, expressing your vibrant personality. |
| 5 | Cat-Eye Shaped Eyeglasses | Frame your eyes with cat-eye shaped eyeglasses, lending an air of intrigue and charm to your overall look. |
| 6 | Teal Brooch | Embellish your costume with a stunning teal brooch, serving as a focal point of elegance and glamour. |
| 7 | Blue Lace Bracelet with Connected Ring | Adorn your wrist with a delicate blue lace bracelet featuring a connected ring, showcasing a vintage and romantic allure. |
| 8 | Complete Costume Set | For girls between the ages of 10-12, this complete Dizzy costume set includes all the elements you need to transform into the mischievous character herself. |
Dizzy Tremaine Overview
Dizzy Tremaine, introduced in Descendants 2, is the daughter of Drizella Tremaine and the granddaughter of Lady Tremaine from Disney's Cinderella. As a talented and imaginative young girl, Dizzy is known for her vibrant and eclectic fashion sense, blending various styles and colors effortlessly. Her character is full of charm, creativity, and a touch of mischief. Dizzy's style reflects her playful spirit, combining elements of modern fashion with a whimsical and edgy twist. With her signature pink hair, colorful outfits, and eye-catching accessories, Dizzy stands out as a truly unique character in the Descendants universe. In the following sections, we will guide you through the process of recreating her iconic look, ensuring that every detail is meticulously captured. So, let's dive in and unlock the magic of becoming Dizzy Tremaine!
Check out more movie costume ideas here.