Welcome to the ultimate guide on how to create a remarkable Hillary Clinton costume! Whether it's for a political event, Halloween party, or simply a fun dress-up occasion, channel your inner stateswoman with this step-by-step guide. From her iconic pantsuits to signature accessories, we'll help you capture the essence of Hillary Clinton's style and confidence.
Get ready to make a statement and embody the spirit of this influential figure in American politics. Let's dive in and create a memorable Hillary Clinton costume that celebrates her remarkable journey and contributions.
Hillary Clinton Costume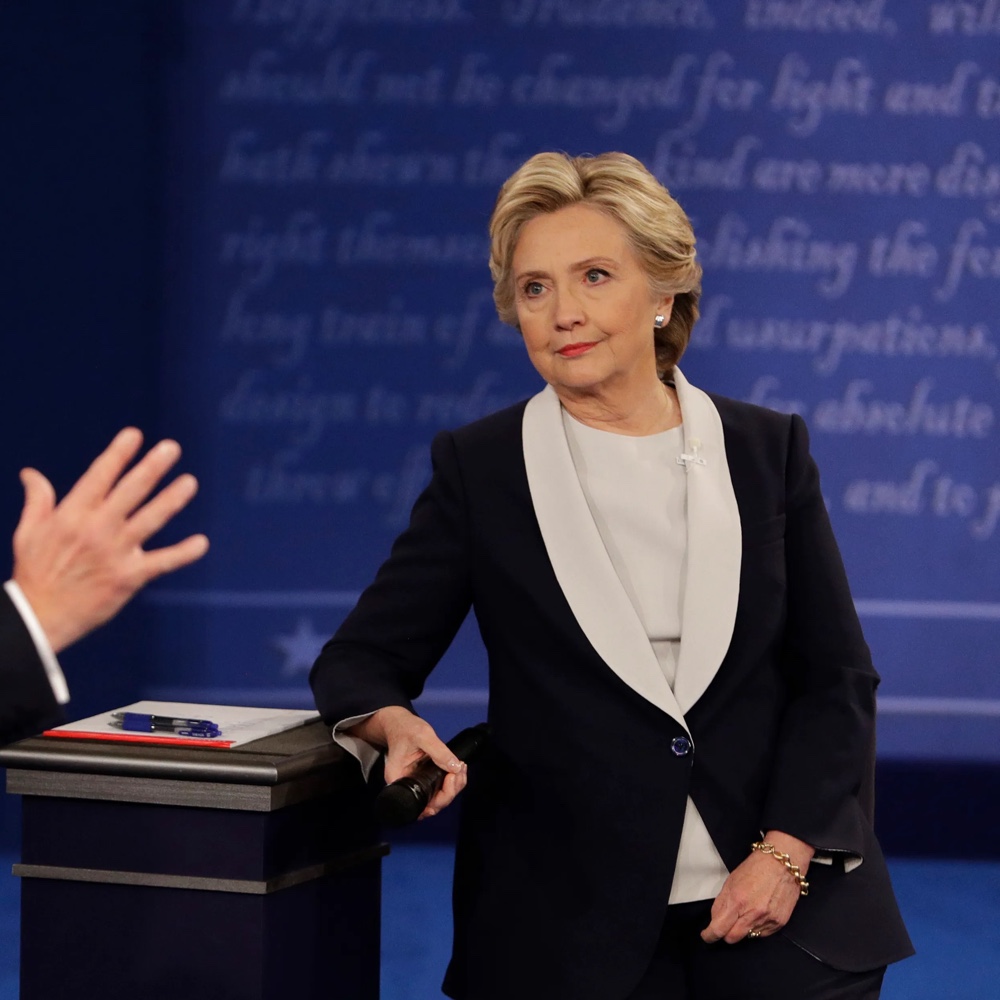 | # | Item | Description |
| --- | --- | --- |
| 1 | Button-up, light pink | Embrace the elegance of a light pink button-up blouse, a sophisticated choice that exudes grace and poise, much like Hillary Clinton's own sense of style. |
| 2 | Blazer, navy | Elevate your ensemble with a navy blazer, mirroring the iconic color of the Democratic party and evoking a sense of confidence and professionalism. |
| 3 | Slacks, navy | Complete the polished look with navy slacks, perfectly coordinated with the blazer and epitomizing the impeccable style that resonates with Hillary Clinton. |
| 4 | Wig, blonde | Embody the timeless elegance of Hillary Clinton's signature blond bob hairstyle with this stunning wig, capturing her iconic and distinctive look. |
| 5 | Heels, block | Step into confidence with these sophisticated block-heeled pumps, combining classic style and professional appeal, ideal for completing your ensemble. |
| 6 | Pearl set, jewelry | Adorn yourself with the timeless beauty of a pearl necklace and earrings, capturing the essence of elegance and refinement that Hillary Clinton often embodies. |
| 7 | Clinton, button | Display your support and political affiliation with a stylish button, a subtle yet impactful accessory that pays homage to Hillary Clinton's influential leadership. |
Hillary Clinton Overview
Hillary Clinton, a prominent figure in American politics, has had a long and influential career spanning several decades. Born on October 26, 1947, in Chicago, Illinois, Hillary Diane Rodham Clinton has made significant contributions as a lawyer, advocate, First Lady, Senator, Secretary of State, and presidential candidate.
Hillary Clinton's journey into politics began early in her life. She attended Wellesley College and later Yale Law School, where she demonstrated her exceptional intelligence and dedication to public service. After graduation, she worked as a lawyer and served on the Watergate Committee, where she gained valuable experience in the field of law and government.
As First Lady during her husband Bill Clinton's presidency from 1993 to 2001, Hillary Clinton became a prominent and influential figure in her own right. She championed various causes, most notably healthcare reform, women's rights, and children's welfare. Her efforts in these areas drew both support and criticism, but they established her as a powerful advocate for social change.
Following her time as First Lady, Hillary Clinton embarked on a political career of her own. She served as the United States Senator from New York from 2001 to 2009, earning respect for her work on issues such as healthcare, education, and national security. Her tenure in the Senate showcased her expertise, strategic thinking, and commitment to public service.
In 2008, Hillary Clinton ran for the Democratic Party's nomination for President of the United States, becoming the first woman to come close to securing a major party's nomination. Though she did not win the nomination, her campaign resonated with millions of Americans and inspired women and girls across the country.
In 2009, Hillary Clinton was appointed by President Barack Obama to serve as Secretary of State, a position she held until 2013. As Secretary of State, she traveled extensively, representing the United States on the global stage and playing a pivotal role in shaping foreign policy. Her diplomatic efforts focused on promoting democracy, human rights, and women's empowerment worldwide.
In 2016, Hillary Clinton became the Democratic Party's nominee for President of the United States, making history as the first woman nominated for president by a major political party. Though she did not win the election, her campaign sparked important conversations about gender equality, political representation, and the future of American democracy.
Throughout her career, Hillary Clinton has been a polarizing figure, admired by many for her dedication, intellect, and resilience, while also facing criticism and controversy. Her impact on American politics and society cannot be denied, as she has broken barriers and inspired generations of individuals, especially women, to engage in public service and pursue their ambitions.
As a stateswoman, lawyer, and advocate, Hillary Clinton's contributions have left an indelible mark on the political landscape of the United States. Her legacy continues to shape discussions on policy, leadership, and the pursuit of equality and justice.
Check out more cool costume ideas here.