Are you inspired by the graceful and intelligent character of Missandei from "Game of Thrones"? With our comprehensive guide, you can bring her remarkable presence to life through a stunning costume that captures her essence. Whether you're preparing for a cosplay event, Halloween, or simply wish to embody Missandei's empowering spirit, this guide will provide you with all the necessary steps and creative ideas to craft an authentic and impressive Missandei costume.
Missandei Costume – Game of Thrones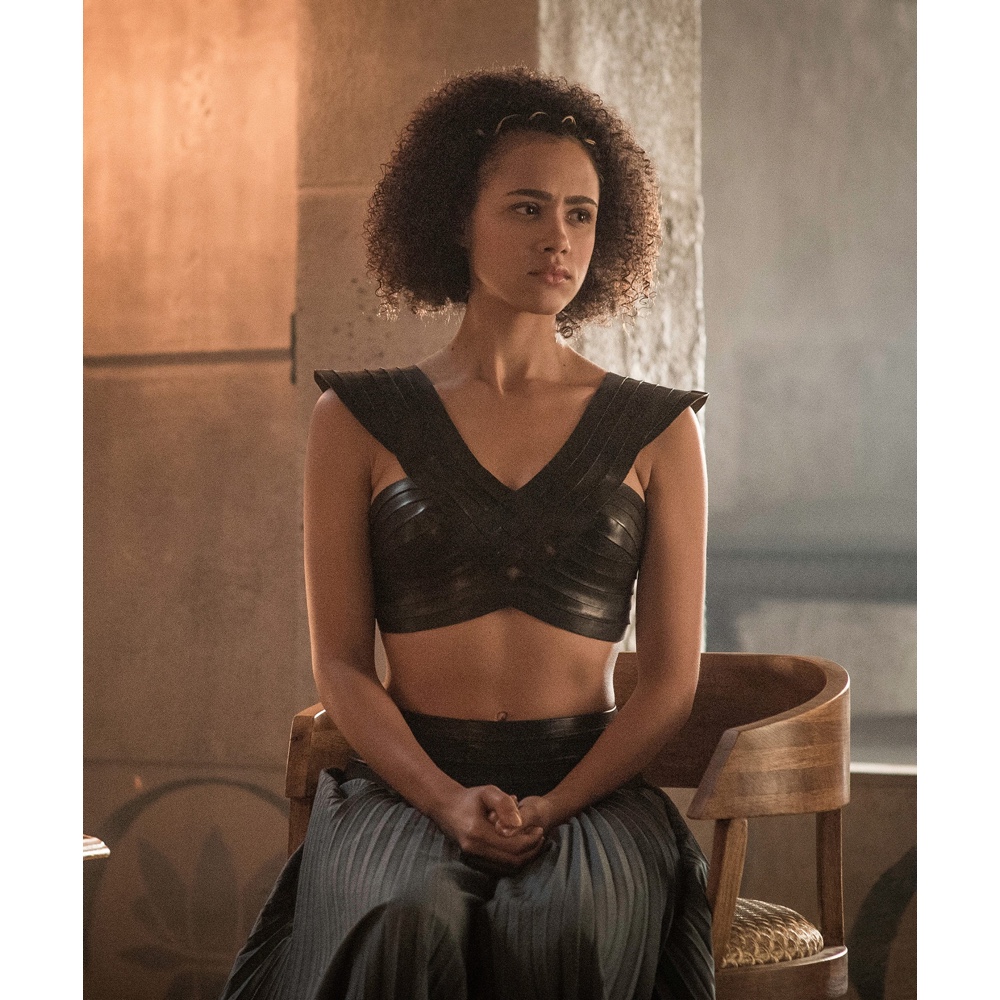 | # | Item | Description |
| --- | --- | --- |
| 1 | Light Blue Infinity Dress | Enhance your look with this mesmerizing light blue infinity dress, perfectly matching the elegance of Missandei's own attire. |
| 2 | Brown Gladiator Sandals | Elevate your ensemble's authenticity with these brown leather gladiator sandals, ensuring a captivating appearance. |
| 3 | Short Afro Curly Wig | Embrace Missandei's iconic style by donning this chic short afro wig, instantly transforming your look. |
| 4 | Brown Zig Zag Headband | Achieve a polished look like Missandei's by wearing this fashionable brown zig zag headband. |
| 5 | Leather Choker Collar | Add the perfect collar detail to your dress with this exquisite leather choker, reminiscent of Missandei's attire. |
| 6 | Brown Wide Braided Belt | Complete your light blue dress with finesse using this wide braided belt in brown, adding intricate detail to your ensemble. |
Missandei Overview
Missandei, portrayed by Nathalie Emmanuel in the "Game of Thrones" series, is a loyal and intelligent character known for her multilingual skills and unwavering support to Daenerys Targaryen. As a former slave from the island of Naath, Missandei rises to become a trusted advisor and confidante to Daenerys, playing a vital role in the quest for justice and freedom. Missandei's strength, resilience, and unwavering loyalty make her a beloved character among fans. Her distinctive style combines elegance and simplicity, reflecting her character's journey from captivity to empowerment.
Stay tuned as we delve into the intricacies of creating a remarkable Missandei costume that captures the essence of this remarkable character. From her signature attire to the subtle details that make her costume memorable, we will guide you through each step to ensure your portrayal of Missandei is nothing short of extraordinary.
See more Game of Thrones costumes here.