Welcome to our comprehensive guide on creating suberb, screen accurate Owen Grady and Claire Dearing costume. If you're a fan of the thrilling "Jurassic World" film series, this guide will help you bring the adventurous spirit of these characters to life. From their distinct fashion choices to their unique personalities, we'll provide you with step-by-step instructions and creative tips to help you recreate the looks of Owen Grady and Claire Dearing. Get ready to embark on a prehistoric journey and become part of the Jurassic World universe!
Owen Grady and Claire Dearing Costume – Jurassic World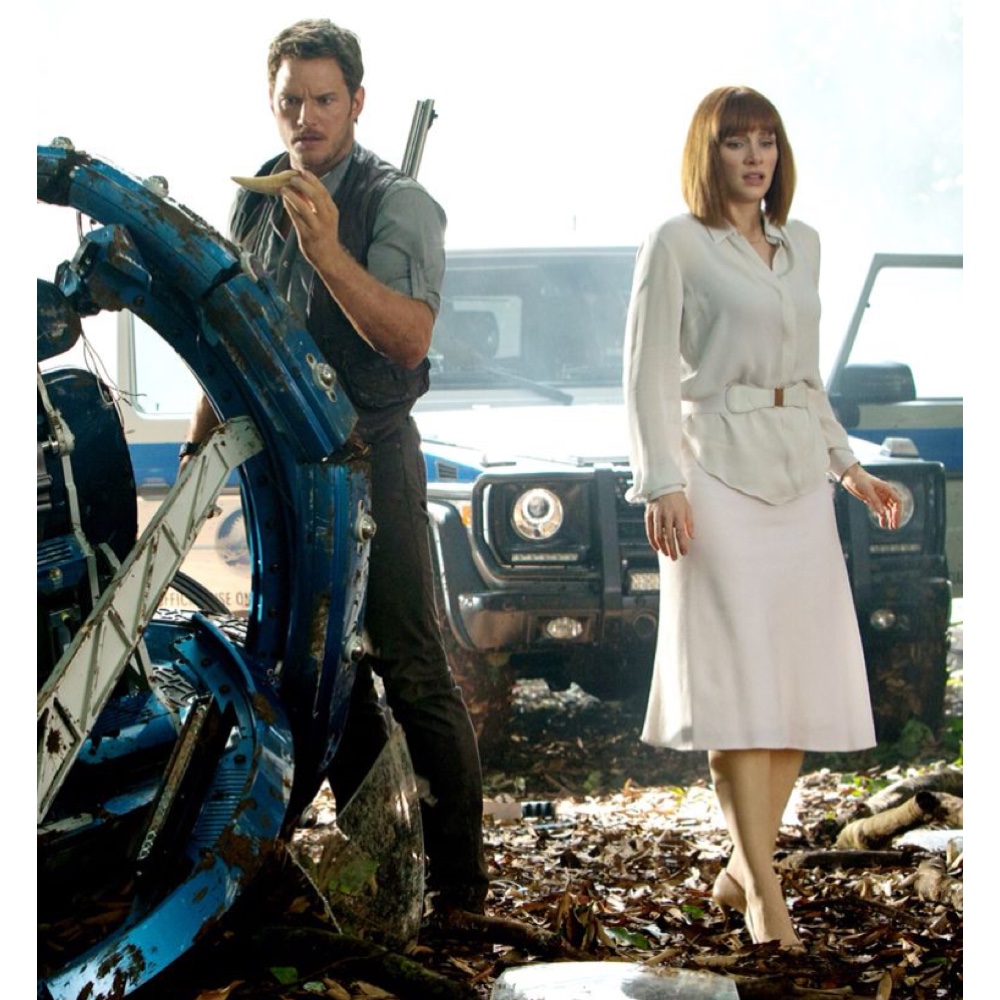 Owen Grady Costume
| # | Item | Description |
| --- | --- | --- |
| 1 | Comfortable Blue Hunting Shirt | Elevate your hunting experience with this incredibly comfortable blue long sleeve shirt. It provides unrestricted movement and breathability during your outdoor adventures. |
| 2 | Authentic Jurassic Brown Leather Vest | Step into the world of Jurassic Park with this authentic replica of the iconic brown leather vest worn by Chris Pratt. Embrace the rugged and adventurous spirit of the Jurassic franchise. |
| 3 | Sleek Black Digital Watch | Add a touch of modern style to your outfit with this sleek black digital watch. Its multifunctional features and backlight make it a perfect accessory for any occasion. |
| 4 | Handcrafted Bourbon Brown Leather Belt | Elevate your look with this meticulously handcrafted bourbon brown leather belt featuring exquisite two-row stitching. It's a perfect blend of style and durability. |
| 5 | Navy Colored Comfortable Pants | Experience the perfect balance of style and comfort with these navy-colored pants. Their versatile design allows for a full range of motion while keeping you comfortable all day long. |
| 6 | Sturdy Brown Hunting Boots | Step into the wild with confidence wearing these sturdy brown hunting boots. Designed for durability and comfort, they'll keep you agile and protected during your outdoor expeditions. |
| 7 | Powerful Rifle with Scope | Channel your inner sharpshooter with this powerful rifle accompanied by a precision scope. Please remember that it is not a toy and should be handled responsibly. |
Claire Dearing Costume
| # | Item | Description |
| --- | --- | --- |
| 1 | Lilac Tank Top | Elevate Claire's sophisticated look with a touch of femininity through this lovely lilac tank top. |
| 2 | White Button-Down Shirt | Experiment with a casual twist by unbuttoning your shirt and tying it together for a stylish and effortless flair. |
| 3 | White Midi Skirt | Complement your white shirt with this elegant white midi skirt, adding a touch of grace and sophistication to your ensemble. |
| 4 | White Belt | Accentuate your waistline and create a polished look by incorporating a sleek white belt into your outfit. |
| 5 | White Heels | Step up your style game with these elegant white heels that perfectly match Claire's refined fashion sense. |
| 6 | Short Auburn Wig | Emulate Claire's sleek hairstyle with this stunning short auburn wig, giving you the confidence to take charge. |
Owen Grady and Claire Dearing Overview
Owen Grady and Claire Dearing are central characters in the "Jurassic World" film series, known for their bravery and resilience in the face of dangerous dinosaurs. Owen, played by Chris Pratt, is a skilled Velociraptor trainer with a rugged and practical sense of style. He often sports a classic rugged look with a touch of military influence, including cargo pants, a utility vest, and sturdy boots. Owen's costume exudes a sense of adventure and readiness for any situation.
On the other hand, Claire Dearing, portrayed by Bryce Dallas Howard, is a determined and resourceful character with a more polished and professional appearance. Claire's costume features a modern and stylish wardrobe, combining elements of business attire with practicality. She is often seen wearing tailored blouses, fitted skirts, blazers, and elegant footwear. Claire's attire showcases her leadership qualities and ability to navigate the challenges of Jurassic World while maintaining a sophisticated appearance.
By recreating the costumes of Owen Grady and Claire Dearing, you'll have the opportunity to embody their adventurous spirits and showcase their distinct personalities. Whether you choose Owen's rugged and practical style or Claire's sophisticated yet functional look, our guide will help you capture the essence of these beloved characters. Let's dive into the details and embark on an exciting journey into the world of Jurassic World through the art of costume creation.
Check out more movie costume ideas here.