Welcome to the wild and captivating world of Joe Exotic and Carole Baskin! In this unique guide, we will embark on a thrilling journey to recreate the iconic characters from the gripping true-crime documentary series, Tiger King. Whether you're fascinated by Joe Exotic's flamboyant personality or intrigued by Carole Baskin's enigmatic presence, this guide will provide you with the step-by-step instructions and inspiration to craft remarkable costumes that pay homage to these notorious figures. So, prepare to step into the intriguing realm of big cats, rivalries, and eccentric personalities as we dive into the art of bringing Joe Exotic and Carole Baskin to life with your own Joe Exotic and Carole Baskin costume.
Joe Exotic and Carole Baskin Costume – The Tiger King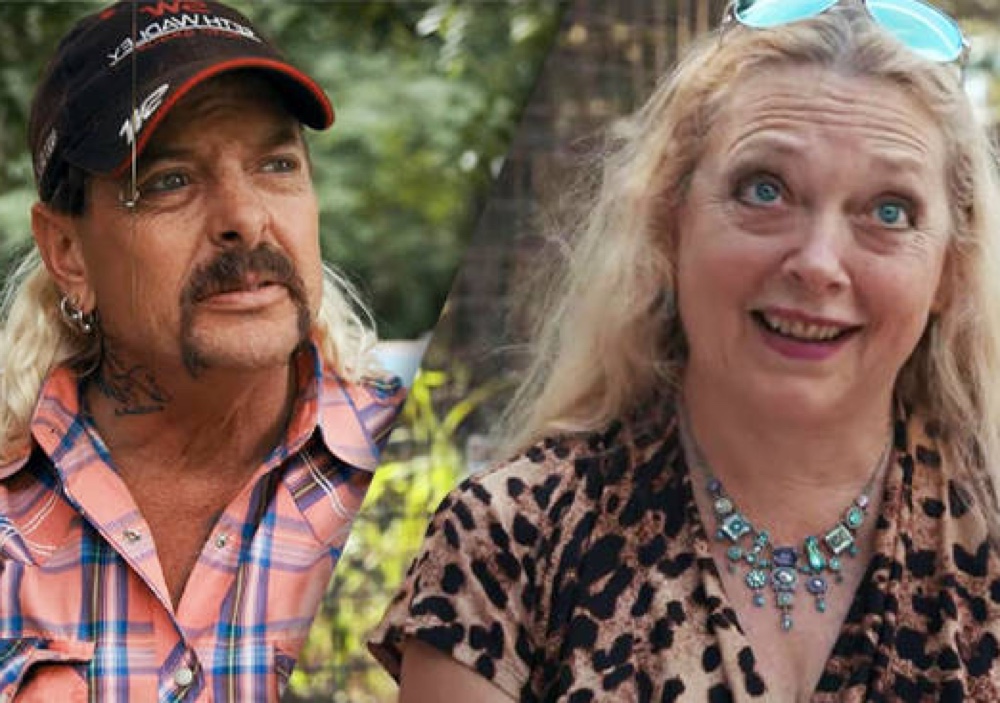 Joe Exotic Costume
| # | Item | Description |
| --- | --- | --- |
| 1 | Shiny Top | Elevate your style with this mesmerizing top adorned with sparkling sequins, exuding a captivating aura of elegance. |
| 2 | Pants | Pair the alluring top with these chic blue pants, creating a fashionable ensemble that demands attention. |
| 3 | Brown Holster | Add a touch of rugged charm to your attire by accessorizing the pants with a stylish gun holster, embodying an adventurous spirit. |
| 4 | Brown Shoes | Complete the ensemble with these dapper brown shoes, harmonizing effortlessly with the holster and exuding a sophisticated charm. |
| 5 | Mullet Wig | Opt for a bold transformation by donning either a blonde wig or a daring mullet-cut wig, showcasing your fearless attitude. |
| 6 | Brown Cap | Top off your look with a trendy brown cap, adding a touch of casual coolness to your overall appearance. |
| 7 | Mustache | Embrace the essence of your character by adorning yourself with this mustache, completing the transformation with undeniable charm. |
| 8 | Stuffed Tiger | Carry a plush tiger companion, adding a touch of whimsy and playfulness to your overall ensemble. |
Carole Baskin Costume
| # | Item | Description |
| --- | --- | --- |
| 1 | Pink Floral Shirt | Make a bold fashion statement with a captivating pink floral shirt, featuring a fusion of floral and animal prints. |
| 2 | Denim Pants | Embrace classic style with a pair of timeless denim pants, exuding an effortless charm and versatility. |
| 3 | Leopard Flats | Step out in fierce fashion with these stylish leopard-print flats, showcasing your untamed sense of style. |
| 4 | Brown Wig and Flower Crown Set | Channel your inner bohemian spirit by adorning your long blonde locks with a delightful flower crown, perfectly complementing the brown wig. |
| 5 | Beaded Tassel Earrings | Elevate your style with these exquisite beaded tassel earrings, adding a touch of glamour and playfulness to your ensemble. |
| 6 | Bead Bracelets | Enhance your accessory game by adorning your wrist with a stack of beautifully crafted beaded bracelets, exuding an air of bohemian charm. |
| 7 | Pink Square Watch | Stay punctual and stylish with this chic pink square watch, a perfect blend of fashion and functionality. |
| 8 | Pink Safari Socks | Indulge in cozy warmth and a touch of safari-inspired fashion with these delightful pink safari socks. |
| 9 | Full Set Costume | Make your life easier by opting for this complete costume set, ensuring an effortless and stunning transformation. |
Joe Exotic and Carole Baskin Overview
Joe Exotic and Carole Baskin are central figures in the riveting world of Tiger King, a true-crime documentary series that delves into the controversial world of exotic animal ownership and the conflicts surrounding it.
Joe Exotic, also known as Joseph Allen Maldonado-Passage, is a charismatic and unconventional zookeeper known for his vibrant personality, flamboyant outfits, and love for big cats. His distinctive appearance often includes a blond mullet hairstyle, a variety of colorful and extravagant shirts, and an assortment of accessories like his signature hat and numerous earrings. Joe Exotic's larger-than-life persona and intriguing background make him a captivating character to portray.
Carole Baskin, on the other hand, is an animal rights activist and founder of Big Cat Rescue. She is a polarizing figure within the Tiger King series, with many scrutinizing her involvement in the big cat industry. Carole is recognized for her cool and collected demeanor, often seen wearing animal-print clothing, flowy dresses, and her trademark flower crown. Carole Baskin's persona adds a layer of mystery and controversy to the story, making her an intriguing character choice for costume enthusiasts.
Check out more TV show costume ideas here.