Welcome to the ultimate guide on how to create an extraordinary Thelma and Louise costume! Inspired by the iconic characters from the 1991 film, this guide will take you on a thrilling journey as we explore the essential elements and steps to bring these powerful women to life. Whether you're a fan of the film or looking for a standout costume for a party or event, we've got you covered. Get ready to unleash your inner Thelma or Louise and make a bold statement with your ensemble.
Thelma and Louise Costume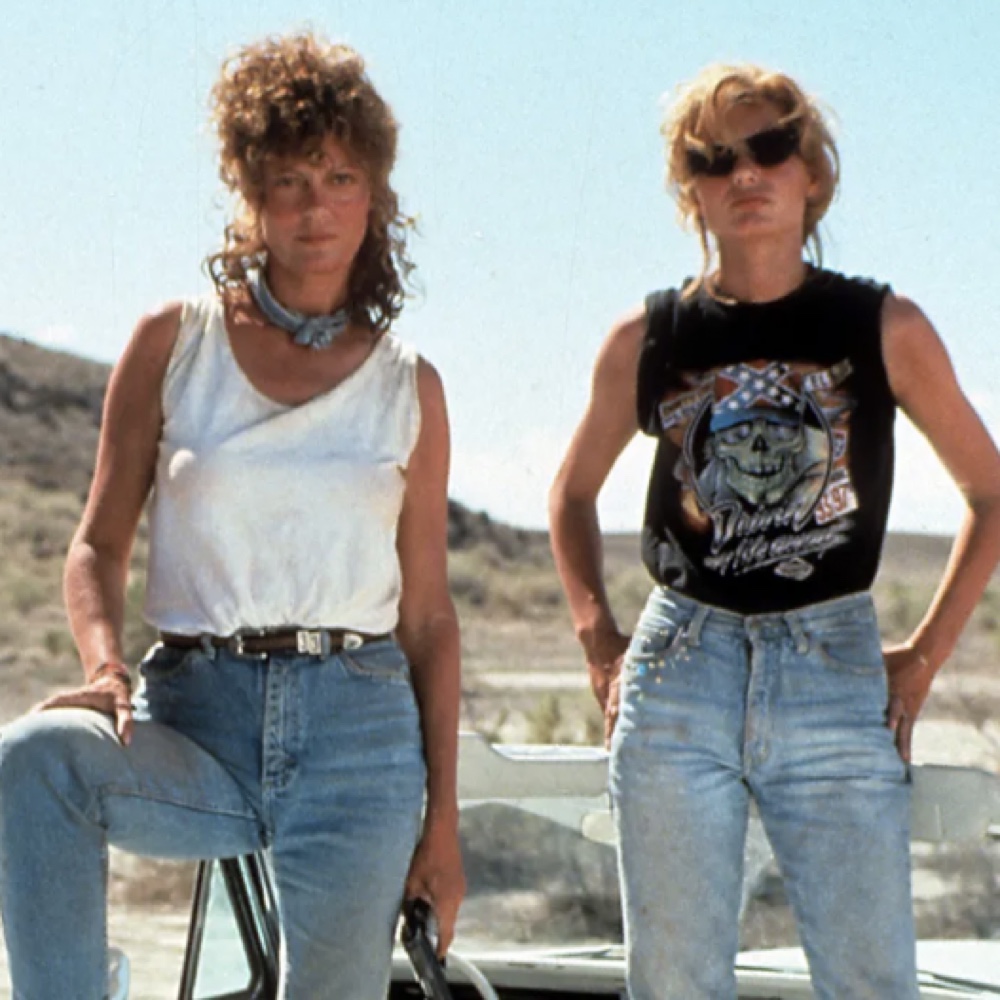 Thelma Costume
| # | Item | Description |
| --- | --- | --- |
| 1 | Black Skeleton Graphic T-Shirt | Elevate your style with a striking black skeleton graphic t-shirt. Embrace the darkness and intrigue as the intricate design adds a touch of mystique to your ensemble. This shirt serves as the centerpiece of your look, expressing your unique personality and love for unconventional fashion. |
| 2 | Light Denim High Waist Jeans | Pair your graphic t-shirt with light denim high waist jeans for a trendy and comfortable outfit. These stylish pants accentuate your curves while providing a flattering silhouette. Be ready to turn heads as you confidently stride through any social gathering or event. |
| 3 | Brown Western Cowgirl Boots | Add a touch of Western charm to your attire with a pair of brown cowgirl boots. These fashionable and durable boots offer both comfort and style, enabling you to conquer any terrain with confidence. Whether you're dancing the night away or exploring the urban jungle, these boots are your perfect companion. |
| 4 | Black Square Sunglasses | Shield your eyes from the blinding sun with a pair of black square sunglasses. These sleek and stylish shades not only provide protection but also exude an air of mystery. With every gaze, channel your inner rebel and embrace the cool confidence of iconic characters. |
| 5 | Silver Thin Bracelet | Add a delicate touch of elegance to your ensemble with a silver thin bracelet. This understated accessory complements your overall look, accentuating your wrist and adding a subtle hint of sophistication. Let your style speak volumes as you embrace the power of minimalistic fashion. |
| 6 | Silver Rings Prop Set | Enhance your outfit with a set of silver rings adorning your fingers. These eye-catching accessories add a touch of glamour and individuality to your look. Stack them or wear them separately, allowing your hands to showcase your personal style and artistic flair. |
| 7 | Revolver Prop | Complete your ensemble with a realistic revolver prop, embodying the spirit of adventure and intrigue. This prop exudes power and confidence, whether you're in character for a performance or simply adding an extra edge to your outfit. Hold it firmly, and let your imagination run wild as you embrace the essence of your chosen persona. |
Louise Costume
| # | Item | Description |
| --- | --- | --- |
| 1 | White Tank Top | Elevate your casual, 'on the run' attire with a sleek and comfortable white tank top. This versatile piece serves as the foundation of your Thelma and Louise ensemble, embodying their carefree spirit and rebellious nature. |
| 2 | Light Denim High Waist Jeans | Complete your look with a pair of stylish light denim high waist jeans. These form-fitting pants accentuate your curves while providing the perfect blend of comfort and style. Channel Thelma and Louise's adventurous spirit as you embark on your own thrilling escapades. |
| 3 | White Western Cowgirl Boots | Step into the spotlight with confidence and flair, adorned in a pair of sturdy white Western cowgirl boots. These eye-catching boots not only add an extra touch of authenticity to your costume but also provide the comfort and durability needed for your wild adventures. |
| 4 | Light Blue Neckerchief | Add a dash of vintage charm and personality to your Thelma and Louise costume with a light blue neckerchief. Tie it loosely around your neck, capturing the essence of the era and showcasing your fearless spirit as you traverse the open road. |
| 5 | Brown Western Belt | Complete your Western-inspired look with a stylish brown Western belt. This accessory not only adds a touch of authenticity but also keeps your pants in place as you embark on your daring adventures, mirroring the determination and grit of Thelma and Louise. |
| 6 | Pistol Prop | No Thelma and Louise costume would be complete without a pistol prop. Channel the unyielding spirit and fierce determination of these iconic characters as you brandish this realistic accessory, ready to face any challenge that comes your way. |
Thelma and Louise Overview
Thelma and Louise is a groundbreaking film that captured the hearts of audiences worldwide. Released in 1991 and directed by Ridley Scott, this exhilarating road movie follows the unforgettable journey of two best friends, Thelma Dickinson and Louise Sawyer, brilliantly portrayed by Geena Davis and Susan Sarandon, respectively. Thelma, a timid housewife trapped in a suffocating marriage, and Louise, a free-spirited waitress weary of societal expectations, embark on a weekend getaway that takes an unexpected turn. As they confront personal challenges and confrontations with the law, their bond grows stronger, fueling their determination to defy convention and seize control of their own destiny. Thelma and Louise became iconic symbols of female empowerment and rebellion, leaving an indelible mark on popular culture. In this guide, we will delve into the key elements of their distinctive style, allowing you to pay homage to these fearless trailblazers through your own Thelma and Louise costume.
Check out more movie costume ideas here.