Welcome to our comprehensive guide on creating the iconic Travis Bickle and Iris costume from the acclaimed film "Taxi Driver." Whether you're a dedicated cosplayer, attending a movie-themed party, or simply a fan of this classic Martin Scorsese masterpiece, this guide will help you bring these unforgettable characters to life. Get ready to dive into the world of gritty '70s New York City as we explore the key elements and details that make up these compelling costumes.
Travis Bickle and Iris Costume – Taxi Driver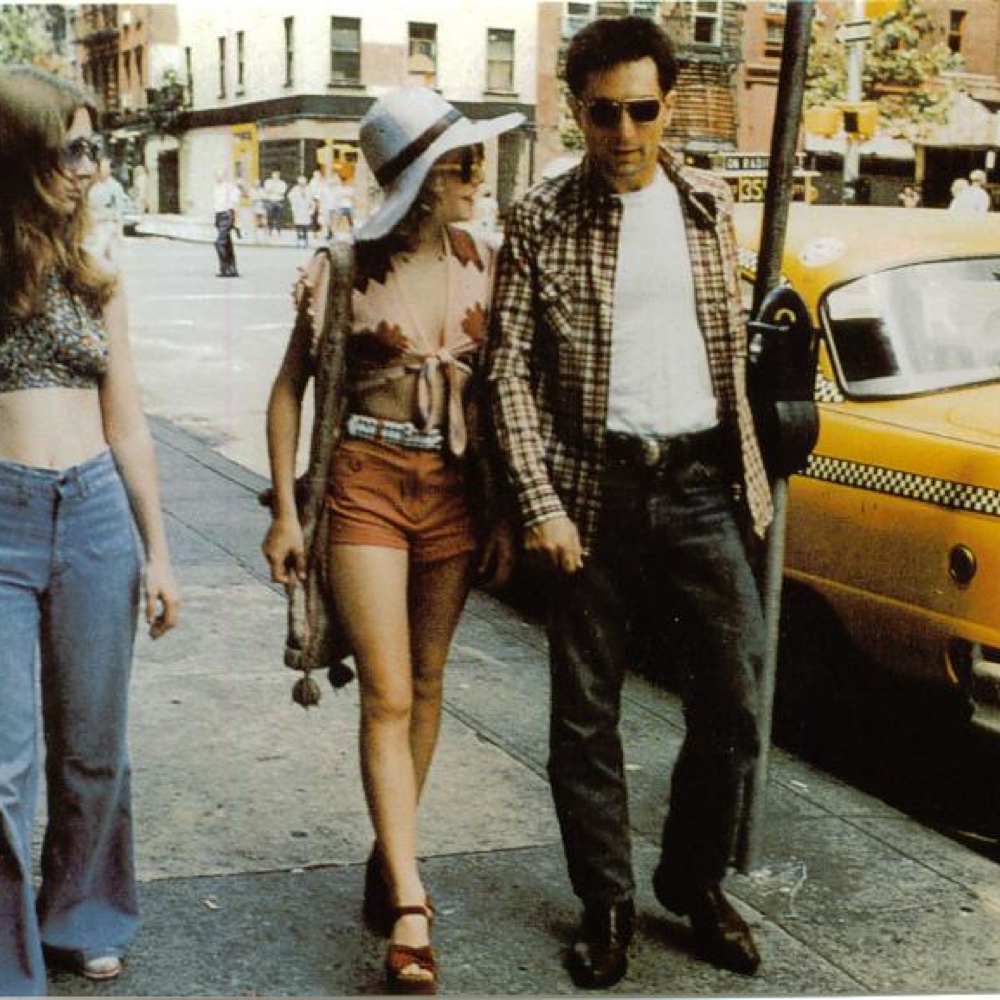 Iris Costume
| # | Item | Description |
| --- | --- | --- |
| 1 | Pink Tie Up Crop Top | Add a touch of allure to your Iris-inspired attire with a captivating pink tie-up crop top. |
| 2 | Red Shorts | Complete your vibrant ensemble by pairing your top with striking red shorts, creating a bold and confident look. |
| 3 | White Belt | Elevate your style with a chic white belt, adding a touch of elegance and sophistication to your outfit. |
| 4 | Red Wedges | Step into the spotlight with confidence by donning a pair of glamorous red wedges that exude sophistication and style. |
| 5 | White Sun Hat | Stay cool and protected from the sun's rays with a trendy white sun hat, adding a touch of glamour to your ensemble. |
| 6 | Yellow Sunglasses | Complete your Iris-inspired look with a pair of vibrant yellow sunglasses, exuding a sense of fun and playfulness. |
Travis Bickle Costume
| # | Item | Description |
| --- | --- | --- |
| 1 | Army Green Jacket | Embrace Travis's rugged style with this trendy army green jacket, perfect for adding a touch of edge to your look. |
| 2 | Denim Pants | Create a versatile and casual look by opting for a classic pair of denim pants, a wardrobe staple that never goes out of style. |
| 3 | Brown Boots | Complete your urban-inspired outfit with a pair of sturdy and fashionable brown boots, ideal for exploring the city streets with confidence. |
| 4 | Themed Patches | Add a personal touch to your army green jacket by embellishing it with themed patches, showcasing your unique style and interests. |
| 5 | Mohican Wig | Transform your hairstyle into Travis's signature edgy look with a striking mohican wig or experiment with a bold alternative using a bald cap and black fur strip. |
| 6 | Sunglasses | Complete your Travis Bickle-inspired ensemble with a pair of stylish aviator sunglasses, adding a touch of mystery and coolness to your look. |
| 7 | Button Props | Accessorize your outfit with "We are the People" and "Vote Palantine" button props, capturing the essence of Travis Bickle's social commentary. |
Travis Bickle and Iris Overview
Travis Bickle, brilliantly portrayed by Robert De Niro, is a complex and enigmatic character that captivated audiences with his intensity and moral ambiguity. As a disillusioned Vietnam War veteran turned taxi driver, Travis exudes an air of alienation and simmering rage, which is reflected in his distinctive wardrobe. His costume encompasses elements of a gritty urban aesthetic, combining military-inspired pieces with a touch of ruggedness.
Iris, portrayed by a young Jodie Foster, is a teenage runaway and prostitute who encounters Travis during his nocturnal journeys through the city streets. Despite her vulnerable and troubled circumstances, Iris possesses a resilience that shines through her character. Her costume reflects her youthful spirit and the harsh realities of her life, blending elements of street fashion with a touch of innocence.
In the following sections, we will delve into the specific components and accessories that make up the Travis Bickle and Iris costumes, offering tips, suggestions, and alternative options to suit your personal preferences and budget. Let's embark on this transformative journey and recreate the iconic looks of these unforgettable characters from "Taxi Driver."
Check out more movie costume ideas here.